Savant are the worlds leading home automation company. They are the home automation brand of choice for the world's most luxurious homes, castles, and in some cases yachts. Products that integrate almost anything in the home, so you experience seamless control between Audio Visual, Lighting, Motorised Blinds and More. The beauty of Savant- Everything is controlled through the one platform. Unlike most 'do it yourself' products.
For installation and programming of any Savant system you dream of, AV King are here to help. With seamless adaptability and easy to use systems that range from a simple one room setup to the worlds biggest house, with all the extras. Therefor, whether it's a new build or updating an existing system, Savant with AV King have got you covered. Furthermore, choose between wired or wireless solutions. Whichever design you decide upon, a solution can be found.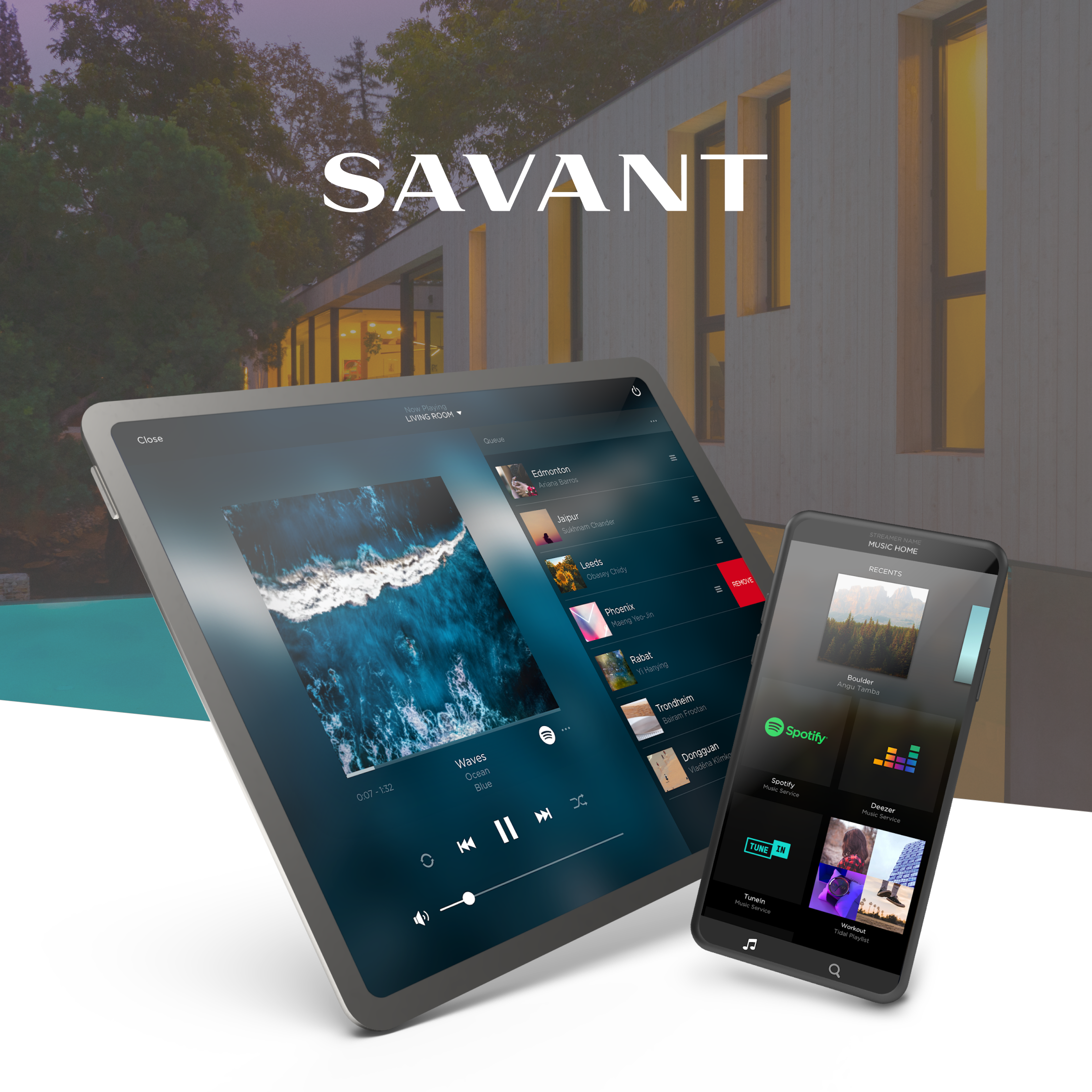 SAVANT HOME THEATRE
Have the flexibility to choose between one simple room for automation, while leaving provisions for future expansions. A home theatre or lounge room set up may consist of a projector, screen, blinds, AV reciever, speakers and lighting control. Using a remote or a phone this can all be controlled to suit your needs. A press of a button and the AV equipment will turn on, blinds will drop, lights will dim and you can sit back and enjoy your home theatre.
AUTOMATICALLY RESPONDS TO YOUR LIFE
The technology in Savant's home automation can give a 'hands free' type of automation. When coming home from work late, Savant can light up the exterior of your home, including the garden lights and pathways, or just indoors. The air con will already be setting your room to its desired temperature, blinds closed just how you set it. Prepare your smart home for arrival or departure, morning rise or a bedtime ritual. Bliss.
ONE APP FOR THE ENTIRE HOUSE
To sum up, there's no need for separate apps to control the shades, thermostat, or light switches. Replace them all with one system that can manage and control all of these devices together. It's amazing when the house is preset to it's desired set up, all whilst driving home. Picture a perfect temperature, dark room, and blinds shut! No jumping app-to-app either.
Does Technology divide your house? No worries, both iOS and Android Apps are available. Savant was the first company to utilize mobile technology! So, they do understand the possibilities in home enhancing technologies.
If you are interested in a seamless automation system or have an existing system that needs updating, please click here to contact us.
In addition to the above, here are a few more reasons why AV King is the right decision for Audio Visual Installations. Firstly we are simply just genuine and good people. Our recruiting process is more than likely the best in Brisbane, as far as tradesman go. Secondly, we are fast and thorough. A balance of speediness, and ultra-zen meditative thought to ensure master craftsmanship on all jobs. Thirdly, and most importantly, we have a 5-Star Rating on Google so you can trust that our customers are over the moon with their installation. The decision is simple. AV King ;).